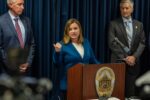 Pennsylvania's top law enforcement officer recently entered into a few settlements that will help to protect consumers.
Attorney General Michelle Henry announced a deal last week with Snap Finance LLC for predatory rent-to-own actions targeting low-income borrowers. Over $7 million will go to customers as cash restitution payments while over $3 million more will be used for consumer debt relief. Snap locked thousands or Pennsylvania residents into rental-purchase agreements over the past nine years
Henry also announced a settlement with Auto Equity Loans in which that company will refund over $700,000 in unlawful interest charges to customers. The company is also required to cancel and stop accepting payments on all remaining car title loans to Pennsylvanians which totals over a million dollars.
Finally, a judgment has been entered against New York-based Fluent LLC for their role in allegedly causing millions of unwanted telemarketing calls to Pennsylvania residents. The company collected personal information through promotional offers and then sold that information to telemarketers. Fluent is required to pay $250,000 to be used by the Attorney General for public protection and education.
The post AG Henry Announces Handful Of Settlements appeared first on ButlerRadio.com – Butler, PA.