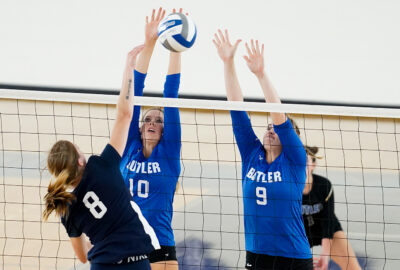 The BC3 women's volleyball team swept Penn State-New Kensington 3-0. The Pioneers won by scores of 25-22,25-15,25-16.
Zoe Morley led the Lady Pioneers with 8 kills. Rosie Carden had 21 assists. Nina Szymanski had 24 digs and Aryana Girvan 7 kills, 26 digs.
The Lady Pioneers are now 4-1 this season. They host Penn State-Shenango Friday night at the Field House.
The Butler high school girls defeated West Middlesex 3-0. Scores were: 25-20, 25-11, 25-22. Audrey Lehman led the golden Tornado with 17 kills 9 aces. Brynn Cornibe had 13 kills 5 aces. Molly Wogan had 40 assists and 11 digs
Butler will host their annual Spikefest tournament Saturday beginning at 8am at the Senior high school. 12 teams will be competing on three courts.
The post BC3 women's and Butler high school girl's volleyball teams post sweeps appeared first on ButlerRadio.com – Butler, PA.