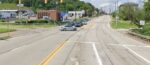 We have received more information about the state grant Butler Township will use to fund a project that will improve safety at a busy local intersection.
Last week, the Commonwealth Financing Authority awarded about $1.4 million to improve the construction of two intersections at the confluence of Whitestown Road, Hansen Avenue, and Armco Drive.
This grant provides for reimbursement of all but $500,000 of the total project cost so $1.9 million will be borrowed by Butler Township through the Butler County Infrastructure Bank then they will receive the state grant money upon completion to pay back the loan.
"Right now, the engineers are going to turn that design into bid specifications and bidding documents," Butler Township Manager Tom Knights explains. "Our intent is to have to project bid and with any luck started in 2022."
By realigning Whitestown to form a perpendicular intersection and shifting Armco Drive to intersect with Hollywood Drive, safety and accessibility will be greatly improved in the area. This project also includes new traffic signals at the intersections as well as pedestrian safety improvements such as sidewalks and time-signaled crosswalks
The post Butler Twp. Manager Details Pullman Intersection Project appeared first on ButlerRadio.com – Butler, PA.