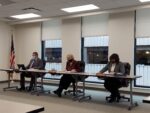 The Butler County budget is seeing some big changes, but county residents won't see any new taxes.
There was a significant jump both the total and general budgets for 2022. The total budget is an estimated $253 million, up from $189 million last year. The general fund budget is expected to be $81 million, which is $12 million more than 2021.
Commissioners say the change is due to the large amount of federal funds available to the county, including the American Rescue Act and CARES funding.
The county is also expecting to see a rise in real estate collection, now up to $52 million. That's attributed to continued population growth.
Commissioner Leslie Osche thanked Anne Brown, who is the county's budget director, along with other department heads and row offices. She says the county is in an "enviable position" when it comes to their finances.
The budget is up for review on the county's website and will be voted at their next public meeting.
The post County Budget Sees Major Jump, But No New Taxes appeared first on ButlerRadio.com – Butler, PA.