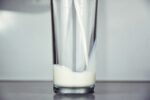 June 1st will be the beginning of Dairy Month and the Pennsylvania Dairymen's Association is celebrating with events all month.
Dairy is the leading sector in the state for the number one industry, agriculture. Pennsylvania ranks second in dairy farmers in the U.S. with over 4,000 dairy farmers in the state.
PA Dairymen's Association Executive Director Dave Smith knows how important it is for Pennsylvanian's food to be locally grown.
"I think its important that consumers recognize that we have infrastructure of dairy farms in Pennsylvania that's local," Smith said. "I think that it's very important for our consumers to know that so much of the product they eat is produced right here in Pennsylvania."
All month events are planned with various different organizations to honor the Pennsylvanian dairy farmer. For the full list of events and happenings you can go to PA Dairy Mens.com.
The post Farmers Preparing For Dairy Month appeared first on ButlerRadio.com – Butler, PA.