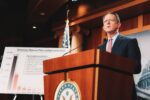 Former Republican Senator Pat Toomey is speaking out on his party's performance in the Keystone State this past election cycle.
Toomey announced his retirement after two terms in office. He spoke with MSNBC and said that while he thought Dr. Mehmet Oz was a good candidate for senate, Doug Mastriano was the main reason Republicans lost.
"The problem that we had in Pennsylvania is that the gubernatorial nominee was a disaster," Toomey said. "He lost the state by 15 points. No one loses Pennsylvania by 15 points, it's just way too close of a state to lose by that much. He didn't even run a campaign. It was just impossible for everyone down ballot to overcome that headwind."
Toomey also says Mastriano cost Republicans three house seats that he believed were winnable.
Toomey was succeeded by Democrat John Fetterman, who defeated Dr. Oz.
The post Former GOP Senator Toomey Criticizes Mastriano For Poor Republican Performance appeared first on ButlerRadio.com – Butler, PA.