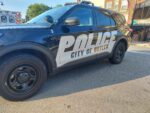 Two men were taken to the hospital after a stabbing in the City of Butler Friday evening.
The incident happened around 4:40 p.m. in the City's Island neighborhood near the Rotary Park and the Chestnutt Inn.
Butler City Police say they were called the area to investigate a reported stabbing. When they got on scene, police found two unnamed men, who were 25 and 32 years old, to have suffered serious stab wounds. Both men were flown to a Pittsburgh hospital, but the injuries are not considered life threatening.
Police say the man responsible for the stabbing was 18-year-old Dartavian Johnson, who police also say is homeless. He was charged with multiple counts of aggravated assault and simple assault. He is in police custody and is awaiting arraignment.
The post Man Charged With Stabbing In Island Neighborhood appeared first on ButlerRadio.com – Butler, PA.