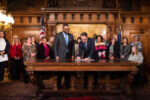 Governor Josh Shapiro wrapped up his first week in office by creating a new state department with a goal of helping businesses grow.
Tuesday Shapiro signed an executive order establishing the Pennsylvania Office of Transformation and Opportunity within the Governor's Office and the Economic Development Strategy Group.
"If you want to grow your business or invest in Pennsylvania, you're not going to need to go to five different agencies anymore to get all of your permits, approvals  or funding," Shapiro said.
This new office will be a one-stop-shop for businesses looking to grow through innovation and economic development support as well as opportunities for workers in disadvantaged communities.
"The office will also help develop and lead an overall growth strategy for our Commonwealth with an eye toward investing in communities that for too long have not seen the benefits of economic growth and opportunity," Shapiro said.
Leading this office will be Pennsylvania business leader and entrepreneur Ben Kirshner.
The post Office Of Transformation And Opportunity Created By Shapiro appeared first on ButlerRadio.com – Butler, PA.