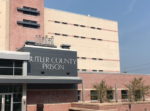 The Butler County Prison brought in more revenue last year thanks to housing an increased number of federal inmates.
The county received an estimated $3 million from the federal government for housing those inmates last year.
According to the county solicitor, the prison receives around $80 per day per inmate. However, that is expected to increase next year to $84 per day, with additional money coming from mileage and other care the prison provides.
The increase allowed commissioners to approve a budget that had a reduced fund balance more than usual; moving from $6 million to just shy of $2.9 million.
The post Prison Revenue Rises Due To Federal Inmate appeared first on ButlerRadio.com – Butler, PA.