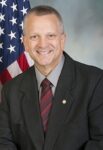 A local lawmaker plans to make a couple of appearances at gatherings in Harrisburg today.
Republican Representative Daryl Metcalfe will first be part of a House Republican event at 9:30 a.m. at the State Capitol complex spotlighting a package of bills designed to cut red tape. Included in this effort to empower local governments is Metcalfe's bill to prevent flooding by streamlining the process to obtain required permits.
Metcalfe will then convene a public hearing at 10 a.m. in his role as House Environmental Resources and Energy Committee Chairman. This hearing will focus on how Oil and Natural Gas Byproducts can Power Modern Medicine and our Health Care System with presentations from representatives of health care providers and oil producers.
This hearing will be streamed live online through Metcalfe's website.
The post Rep. Metcalfe Participating In Hearings On Environment And Government appeared first on ButlerRadio.com – Butler, PA.