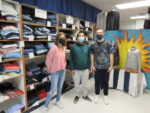 It's not a typical brick-and-mortar store; the items don't cost any money and it resides in an area high school.
The Seneca Valley Senior High has launched the "No Cost to Shop" store that aims to help those in need at the high school.
The idea came about as staff had concerns about students that didn't have access to essential needs.
After working with administration, teachers, and students, the district launched the store. Students in need of clothing, food, or other items are welcomed to set up a private time to shop and take what they need.
The district is always seeking donations—a bin is set up near the entrance to the high school.
The post SV Store Helping Those In Need appeared first on ButlerRadio.com – Butler, PA.