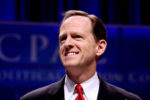 Pennsylvania Senator Pat Toomey is among those presiding over a hearing dealing with decisions surrounding the economy's future.
Toomey says he'll support the re-nomination of Federal Reserve Chairman Jerome Powell.
"When the pandemic hit in 2020, Chairman Powell acted swiftly and stabilized financial markets and the economy," Toomey said. "Our economy and our financial system experienced a very severe real-world stress test during the worst days of the pandemic and we came out of it with the best capitalized banking system in American history."
However, Toomey did express concern with rising inflation in the country.
"Inflation is at a 31-year high. Just last month the Consumer Price Index increased by 6.2 percent year-over-year," Toomey said. "Price hikes are everywhere."
Toomey also took the time to criticize the proposed Build Back Better plan, which he says is unnecessary spending.
The post Toomey To Support Powell; Concerned About Inflation appeared first on ButlerRadio.com – Butler, PA.