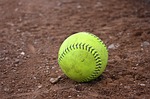 WPIAL High School Playoffs:
Softball:
–Seneca Valley will open the Class 6A playoffs against Bethel Park next Wednesday in the First Round.
–The Mars girls received a First Round Bye in Class 5A.
–Freeport will face Central Valley in the 4A First Round next Wednesday. Knoch will meet Montour.
–North Catholic will meet Mount Pleasant next Tuesday in the 3A First Round.
The baseball bracket will be revealed today.
The WPIAL Lacrosse Playoffs also begin next week.
–The Butler Boys will host Central Catholic in the Class 3A First Round Monday at 7pm.
–The Seneca Valley Boys and Girls will travel to Bethel Park. The boys play Monday. The girls will play Tuesday.
–The Mars Boys and Girls received First Round "Byes" in Class 2A.
The post WPIAL Softball and Lacrosse Playoff Brackets revealed appeared first on ButlerRadio.com – Butler, PA.