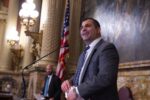 Pennsylvania's speaker of the house will be making a stop in Pittsburgh tomorrow as he embarks on a statewide listening tour.
Rep. Mark Rozzi says Harrisburg is broken and that he wants to get input from the public on what needs to be done to break the partisan gridlock.
"It is my hope that at the conclusion of this tour we'll have a clear idea on how to best heal the divisiveness in Harrisburg, what a fair set of House rules look like, and a plan to finally get survivors of childhood sexual assault the justice and truth they both desperately deserve," Rozzi said.
Rozzi will be at Carnegie Mellon University tomorrow evening for the first stop. He's expecting to be joined by a group of bipartisan work group he assembled over the past few weeks.
The post Speaker Rozzi Going On State Listening Tour appeared first on ButlerRadio.com – Butler, PA.